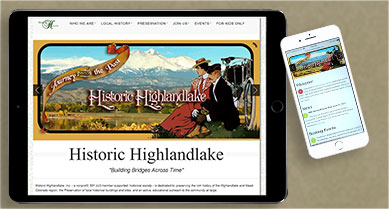 Have you ever visited a website that while beautiful and fancy, was also difficult to move around in? How did it look on your phone or tablet compared to your laptop or desktop computer? Were you still able to navigate the website without difficulty? While as an artist, it is easy to get caught up in the beauty of our work and forget about functionality, I have to keep reminding myself and my clients that while beautiful is wonderful, it is nothing without functionality.
To this end, I specialize in affordable, beautiful, vintage inspired websites that are adapted to our modern world. I work with my clients until they are satisfied with both the look and functionality. I want your website to not only be beautiful, but easily work on all your devices. After all, what good is a website if the only way someone can view and navigate around it, is via a desktop computer? That just isn't how our world works today.
SEO is also an important factor in a well designed and functioning website. If the web browsers can't find your website, then you might as well not spend the money because no one will be visiting your website.
Costs start at $500.00 for a simple, 6 page website. Each additional page is $75 ea. Your six pages include your home, about you, contact, and three product or portfolio style pages. I can also maintain your website for you. Costs start at $35.00 per hour minimum, or depending on your needs, you can purchase a yearly plan.
UP FRONT: At this time, I don't design for Squarespace, WordPress, or other CMS style websites, I code in HTML 5, and use CSS and Java-script to make my websites function well. I avoid php and asp, not only because I'm not a developer, but because php and asp that are not properly written, are too easy for hackers to infiltrate.
I've designed hundreds of websites since the mid 1990s. Design has evolved and continues to evolve since that time. Below are a few of my latest, responsive websites for you to check out.
Below are a few of my older sites that are not responsive.
For more information please contact me.